Every year my family bakes like crazy in preparation for Christmas. Everything is frozen until Christmas Eve when we take it out and devour it while we receive our presents from our "Secret Santa".
As we are now in the month of December it is time to start the baking! So I decided that each week I will share with you one of our family recipes, and if you aren't much good at baking and would still like to try the delicious goodies than you can! I will post a link to where you can buy each treat off of etsy.
To start us off, English Toffee. One of the best loved candies in our house!
.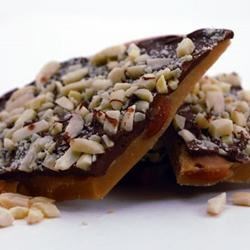 In a large heavy bottomed saucepan, combine the butter, sugar and salt. Cook over medium heat, stirring until the butter is melted. Allow to come to a boil, and cook until the mixture becomes a dark amber color, and the temperature has reached 285 degrees F (137 degrees C). Stir occasionally.
While the toffee is cooking, cover a large baking sheet with aluminum foil or parchment paper.
As soon as the toffee reaches the proper temperature, pour i

t out onto the prepared baking sheet.
Sprinkle the chocolate over the top, and let it set for a minute or two to soften. Spread the chocolate into a thin even layer once it is melted. Sprinkle the nuts over the chocolate, and press in slightly. Putting a plastic bag over your hand will minimize the mess.
Place the toffee in the refrigerator to chill until set. Break into pieces, and store in an airtight container.


Enjoy!